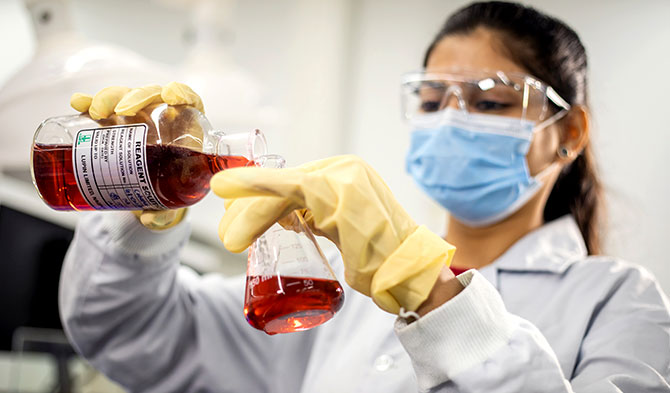 Novel Drug Discovery and Development
The NDDD team has developed a pipeline of highly differentiated and innovative new chemical entities in focused therapy areas of Oncology, Immunology and Metabolic Disorders.
Lupin successfully partnered with AbbVie to develop and commercialize its novel MALT1 inhibitor in 2018.In 2019, Lupin successfully partnered with Boehringer Ingelheim to develop its clinical stage MEK inhibitor LNP3794 for the treatment of difficult-to-treat cancers. LNP3794 will be combined with one of Boehringer Ingelheim's innovative KRAS inhibitors for treating patients with gastrointestinal and lung cancers harboring a broad range of oncogenic KRAS mutations.
KRAS mutations occur in 1 in 7 of all human metastatic cancers making it the most frequently mutated cancer-causing gene, for example, mutation rates are more than 90 percent in pancreatic cancers. Lupin's MEK inhibitor LNP3794 was designed and developed by NDDD team in Pune, India with a novel concept and it has shown pre-clinical activity as a single agent as well as in combination. Furthermore, it has also shown early clinical benefit in a small subset of patients. Lupin's strong oncology pipeline also includes frontier approaches exploiting immune angle, synthetic lethality, epigenetic changes and cancer metabolism. All these approaches have potential to be successful in translation from bench-to-bedside. They can be Tumor Agnostic in nature – treating patients based on specific gene mutations/alterations regardless of cancer type (wider applicability).
Clinical Programs
Currently underway is our Endocrine Clinical Program for treating Chronic Kidney Disease. We have successfully completed Clinical Phase-I study in Europe and Clinical Phase-II in India in Chronic Kidney Disease patients on dialysis and also not-on-dialysis. The study has demonstrated highly significant positive outcome. We plan to continue the Phase-II and Phase-III pivotal studies in the U.S.