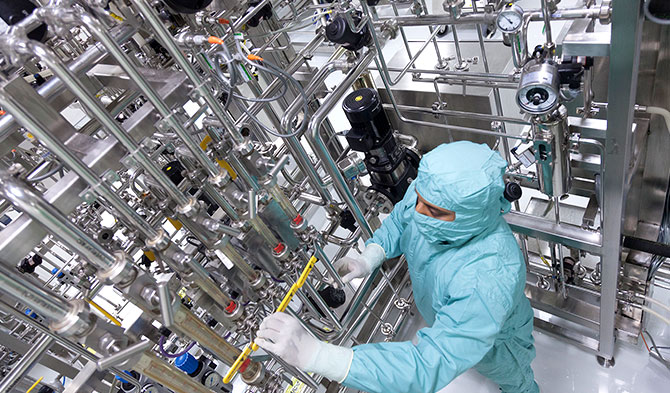 Established in Pune, India in 2008, Lupin Biotech produces high-quality biologics that are accessible and affordable for patients globally. Spread over 10+ acres, our state-of-the-art facility possesses advanced capabilities such as development, manufacturing, pre-clinical and clinical programmes for biotech products. A cGMP facility for microbial and mammalian manufacturing was also commissioned in 2010.
Products
Biosimilar products are made using biological systems rather than chemical entities. They are set to dominate the next wave of affordable medicines for a plethora of emerging therapy areas. With long gestation periods, complex manufacturing systems and deep investments, relatively fewer generic drug companies have forayed into a meaningful biosimilars programme.
Filgrastim and Peg-Filgrastim
Lupin's first oncology biosimilars, Lupifil® (Filgrastim) and Lupifil-P® (Peg-Filgrastim), continue to enjoy a high market share in India. The registration of these products in emerging markets is currently ongoing. We have also completed our filing in the US for Peg-Filgrastim launch.
Etanercept
Our flagship biosimilar, Etanercept, is an injectable biologic that inhibits the biological activity of Tumour Necrosis Factor (TNF), a key cytokine in the pro-inflammatory cascade in chronic, immune-mediated inflammatory diseases such as rheumatic arthritis, psoriatic arthritis, axial spondylarthritis, and plaque psoriasis. Etanercept is available in India, Japan and the EU region, and over the coming period it is set to expand its footprint into other geographies.
Lupin's biosimilars business continues to make significant progress in this space. Our strategy revolves around enabling our people – who are experts in this field – to conduct cutting-edge research, and contribute towards the development and manufacturing of complex biosimilars. When combined with our commercialisation strength, it gives us the ability to provide patients with greater access to affordable biologics.
To learn more about our R&D efforts in biosimilars, please click here.