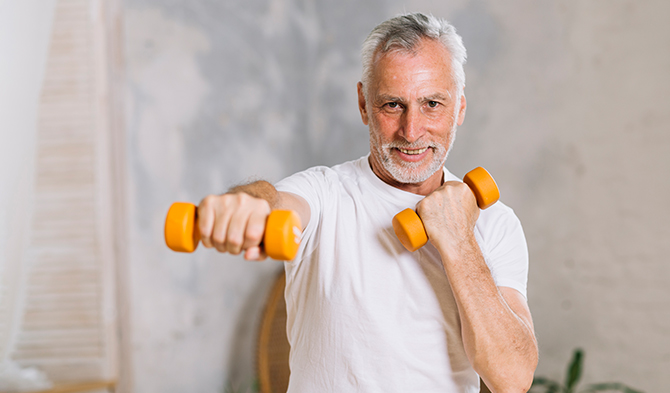 Adding Sweetness to Life
At Lupin, we are driven by our commitment to create an ecosystem of affordable and accessible therapy for diabetes management, globally. This disorder affects people across geographies, age groups and socio-economic classes, and demands constant monitoring along with life-saving medications.
Our Anti-Diabetes Portfolio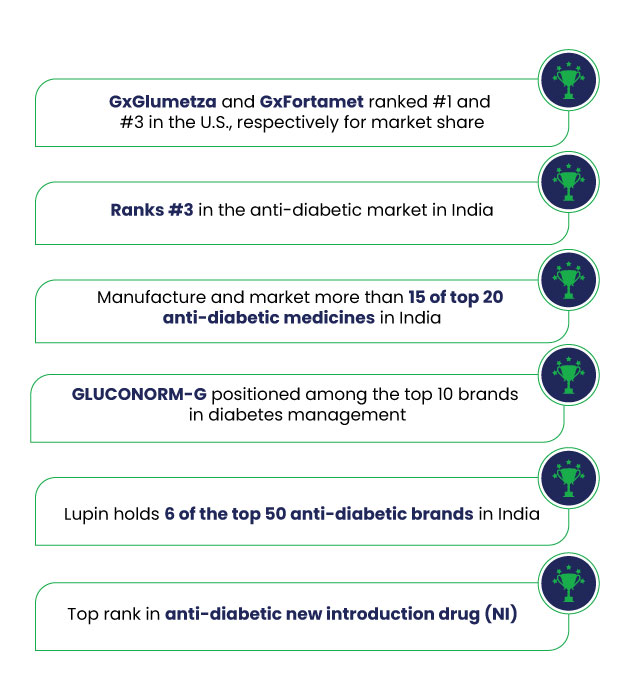 To know more about our anti-diabetic products, click here.
Beyond the Pill
Over the years, we have established a significant presence in diabetes management across the world, not only with our products but also with our activities aimed at patient awareness and doctor outreach programmes for improved patient outcomes. Our Insulin Injection Technique programme, the Anya chatbot and the launch of our book, Complication in Diabetes Mellitus: Bench to Bedside, are a few notable initiatives that go beyond the pill.
Insulin Injection Technique programme
It isn't surprising that many diabetes patients or their in-house caregivers aren't aware of the correct technique to inject insulin. To support insulin patients in their diabetes journey by imparting medically verified knowledge and training on insulin injection techniques, we have an ongoing RIIT (Right Insulin Injection Technique) Programme conducted by trained experts. The programme aims at encouraging adherence and positive patient outcomes to insulin therapy, and focuses on four specific aspects: insulin storage and transportation, injection techniques, site of injection and responsible disposal of syringes. Coordinated by the Lupin Team in conjunction with various diabetes care centres, this programme has touched thousands of patients across more than 100 centres.
Anya chatbot
Anya is a first-of-its-kind chatbot launched in India for disease awareness. The multilingual chatbot has been accessed by 3.7 lac patients and has addressed more than 23 lac queries, maximum pertaining diabetes. The chatbot enables access to correct, medically verifiable information on queries related to diabetes and a few other disorders. Launched in 2018 at the 46th Annual Meeting of the Research Society for the Study of Diabetes, Anya is an intelligent and patient-friendly chatbot trained to help patients with health-related concerns as part of their disease-management.
Complication in Diabetes Mellitus: Bench to Bedside
We recently launched this book that talks about diabetes and resulting cardiac complications. Co-authored by 19 experts, the book covers global updates on the clinical strategy for improving diabetes care, and lends an Indian perspective on diabetes management. Lupin was the academic partner for this book, which aims to update healthcare providers with global best practices followed while managing diabetes-related complications.
Tie-up with Birmingham City University
The Birmingham City University launched a new Master's Degree in Advancing Diabetes Care – a course aimed at helping healthcare professionals develop specialist skills and techniques to enhance the level of care provided to people living with diabetes. The first cohort of students taking up their places in the course are based in India and sponsored by Lupin, upholding the vow to support the fight against life-threatening diseases.
HUMRAHI Patient Education
We launched this initiative that is aimed towards enriching the lives of diabetes patients enrolled on Huminsulin and Eglucent. Operating across 20 cities, Humrahi has managed to engage more than 4,000 HCPs and touch the lives of over 1,50,000 patients through its services. The Humrahi Patient Education Programme offers services like diet and counselling, pen education, insulin storage tips and exercise tips.
DNA Programme
Our DNA (Dietician and Nutrition Assistance) programme is a first-of-its-kind virtual platform to provide diet and nutrition support for lifestyle management of diabetic and hypertensive patients. It connects doctors with their patients and creates awareness about the right nutrition management diet for diabetics and hypertensives. This is being done in association with Possible, a research and nutrition-based healthcare company that works on combatting obesity and obesity-related disorders. In the presence of doctors, the dieticians educate diabetic patients on a diabetes diet and nutrition, and create awareness among cardiac patients on a low salt intake diet and nutrition.